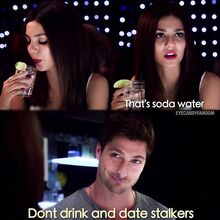 "K3U"

Episode Guide

Season 1, Episode 1
Episode Information
Character backstory:

In the beginning of the episode Lindy is seen picking up her sister Sara from hanging out with a group of friends. It is revealed that Sara had previously not been home for three days, which went undetected by the girls' father, who is implied to be a drug user. Lindy also reveals the death of their mother had occurred some time before the scene, and also implies that Sara might've once had an eating disorder. On the way home Lindy drives to a burger-joint with Sara in the passenger side. Sara gets out to go to the bathroom, but a van pulls up behind her and someone grabs her from behind and kidnaps her. Lindy, in a an attempt to reach her sister (whom is struggling to resist kidnap), struggles to get out of the car (as both the doors are blocked, one by a cement pillar, and the other by a wall). Lindy climbs out the window, but it is too late. Her sister is in the van and the culprit drives away, nearly hitting Lindy with his/her car in order to escape.

Premiere date:
12 January, 2015
Viewers:
0.59 million[1]
Written by:

Christian Taylor

and

Emmy Grinwis

Directed by:

Russell Mulcahy

Episode Chronology
Previous Episode:
"N/A"
Next Episode:
"BRB"
Related Pages

GALLERY

Official trailer

"K3U" is the first episode of the thriller television series Eye Candy, also known as the Pilot. The episode aired January 12, 2015 on MTV.
Synopsis
[
]
Lindy, a hacker, runs an online support website to missing person's families. Sophia, Lindy's best friend and roommate, goes to a club with her. Whereas Sophia has set up Lindy a profile on Flirtual, a dating app. She meets men, with three notable guys being Jake Bolin, a doctor who has a fascination for cars. When she leaves the club, someone watching her sends her text messages. She is almost run over by a car, to which the same sender texts her saying it must have hurt. When she arrives home, she hacks Flirtual's app, in attempts to find the man tracking her. Whilst doing so, someone infiltrates her computer, and she realizes her webcam is blinking, prompting her that someone is watching her. She tells Sophia and Connor about this, and she decides to meet the men once more at the club. She meets with the same guys, only to hack their phones. When she leaves after her last meeting, she realizes she picked up the wrong phone. She returns to the doctor's direction, but he was instead killed by Lindy's stalker. She eventually reports this, and hacks the app once more. Only this time, the hacker returns again, hacking the police station's computers. She stays home with Ben after that night. She goes on the roof, which scares Ben. They kiss and have sex. They share an intimate conversation. She returns to work, where she spots the cameras in her apartment. She sees Sophia going to her room then a man following her. Lindy concludes it's the killer and attempts to call Sophia to save her. She calls Ben who runs to the apartment. Sophia returns her call saying she is at the club. Lindy realizes this was a trap, and she runs home to save Ben, whilst he is overtaken by the stalker who hits him in the head. Lindy arrives home to find a mannequin in the living room holding a laptop. She sits down, as ordered. Footage of Ben is shown. The stalker persists Lindy to tell him she loves him. He is cut off. Lindy, distressed, screams for him. Eventually, their intimate conversation returns, and she runs to the roof, where she finds Ben dead. She screams for him as Tommy takes her away. She grieves his death with Sophia at her side. Lindy is at a park, where the stalker, also the narrator, explains that he had to kill Ben. He asks, "Are you the one?"
Killer Manifesto
[
]
Human life: so delicate, so fragile… easy to extinguish.
I look for the freshest, the juiciest, the most tender USDA prime, Grade A, low-fat, ultra lean — the one.
It used to be I had to go outside to find them. Not anymore.
The internet… God's gift to psychopaths.
Are any of them real?
I need someone real — someone who understands.
Why did they lie?
They'll pay.
One by one…
Episode
[
]
Official episode.
Cast & Characters
[
]
In order of appearance
Media
[
]
Images
Videos
Trivia
[
]
First appearance of Lindy Sampson, Sophia, Connor, George and Tommy.
First and last appearance of Ben.
"K3U" stands for "I love you".
References
[
]